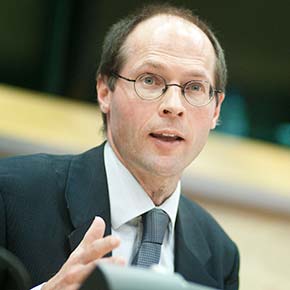 Olivier De Schutter served a six-year term as UN Special Rapporteur on the Right to Food from 2008 - 2014. In 2020, he was appointed UN Special Rapporteur on Extreme Poverty and Human Rights
He teaches international human rights law, European Union law and legal theory at the Université catholique de Louvain in Belgium, as well as at the College of Europe. He is also a visiting professor at Columbia University. Additionally, he was a visiting scholar (2010-2012) at American University Washington College of Law's Academy on Human Rights and Humanitarian Law. 
In 2013, Olivier De Schutter was awarded the prestigious Francqui Prize, in recognition of his contributions to the theory of governance, EU law, and international and European human rights law. He organised the The Francqui International Conference in May 2014 on the theme The EU's Fifth Project (EU5P): Transitional Governance in the Service of Sustainable Societies.
He is co-chair, together with Dr Olivia Yambi, of an International Panel of Experts on Sustainable Food Systems (IPES-Food) set up by the The Daniel and Nina Carasso Foundation in 2014 and is a member of the UN Committee on Economic, Social and Cultural Rights.